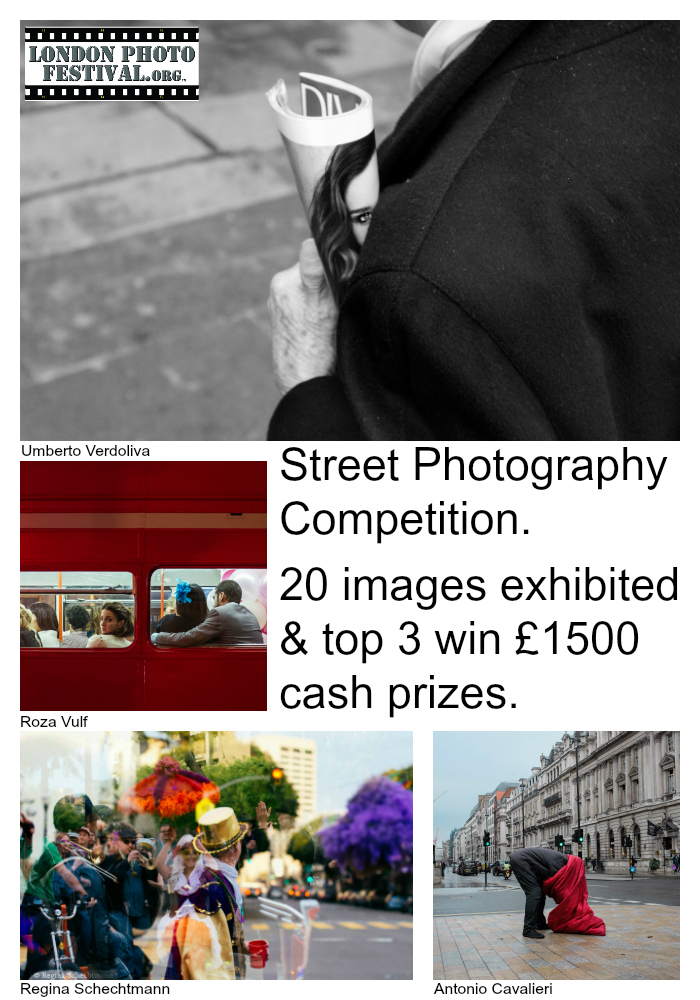 The London Photo Festival & Gallery Presents:
Theme: Street Photography
Calling all aspiring Eugène Atgets and budding Vivian Maiers. If you fancy yourself as a street photographer, enter our second street photography competition for the chance to be exhibited in a central London venue and win £1,000. All you have to do is submit your images. Whether your subject is downtown New York or polite Wimbledon, we want to see your images. Good luck!
Prizes:
The top 20 selected images will be exhibited at the prestigious Bridge Lounge Bar and Restaurant in London Bridge for three months from June 2016. Out of the 20 selected, three will win:-
First Place: £1,000 cash prize
Second Place: £300 cash prize
Third Place: £200 cash prize
All finalists will be announced in the London Photo Festival & Gallery newsletter and a press release will be issued. Finalists will also receive recognition in online gallery display and social media exposure via Facebook, Twitter and our Blog.
Copyright:
All submitted images remain sole property of artist/photographer.
Entry Fee(s):
£10 1 image
£15 2 images
£20 3 images
£30 5 images
Colour and/or Black and White images will be accepted.
Judge:
Paul Russell
Eligibility:
Contest is open to all individuals 18 years and older, worldwide.
Entry Deadline:
Extended till: 23rd May 2016